In the first half of this term the children were learning about the brain, how they learn - how they take information into the brain - and how they process that information inside their heads.
The different ways we process                          Your brain is the supercomputer that generates all your
information inside our heads.                             thoughts, memories, dreams, emotions and ideas. Click on the 
Learn more about them,                                     link to learn more about the brain, and see how to turn up the 
and if you want to try the test!                         power. 
This half term some of the children's work has been based on Charlie and the Chocolate Factory.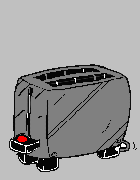 We were using Gifs  to make
Power Point presentations more
interesting